Community Based Flood Early Warning System (CBFEWS)
Beginning from the humble open wire switch based water level detection systems to the latest non-contact water level monitoring systems with telemetry, Sustainable Eco Engineering has played a fundamental role in the Community Based Flood Early Warning System developed by the International Centre for Integrated Mountain Development (ICIMOD).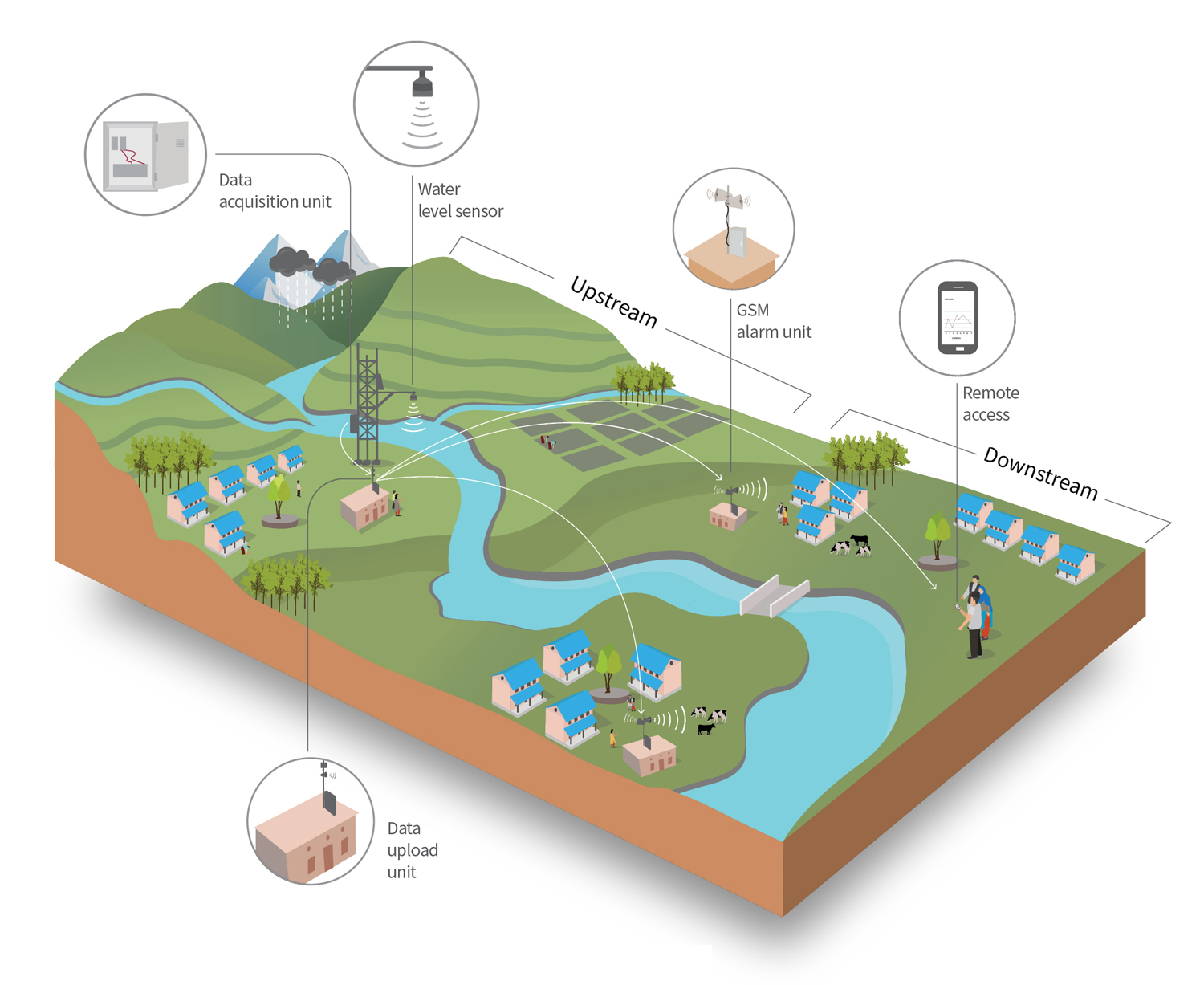 Image source: ICIMOD
What is CBFEWS?
The Community Based Flood Early Warning System is an integrated system of tools and plans managed by and for communities, providing almost real-time flood early warnings to reduce flood risks. CBFEWS is based on people-centered, timely, simple and low-cost technology. It disseminates information to the vulnerable communities downstream through a network of communities and government bodies. A properly designed and implemented system can save lives and reduce property loss by increasing the lead time to prepare and respond to floods.
Challenge presented
Development of a cost effective solution that can generate timely and reliable water level information from the river under observation and deliver it to the house of a close-by caretaker in a way that it can serve as an early warning for possible oncoming floods. For the latest overhaul, addition of accurate quantitative water level measurements accentuating early warning feature with the inclusion of telemetry for facilitation of qualitative analysis by the Department of Hydrology and Meteorology, Nepal.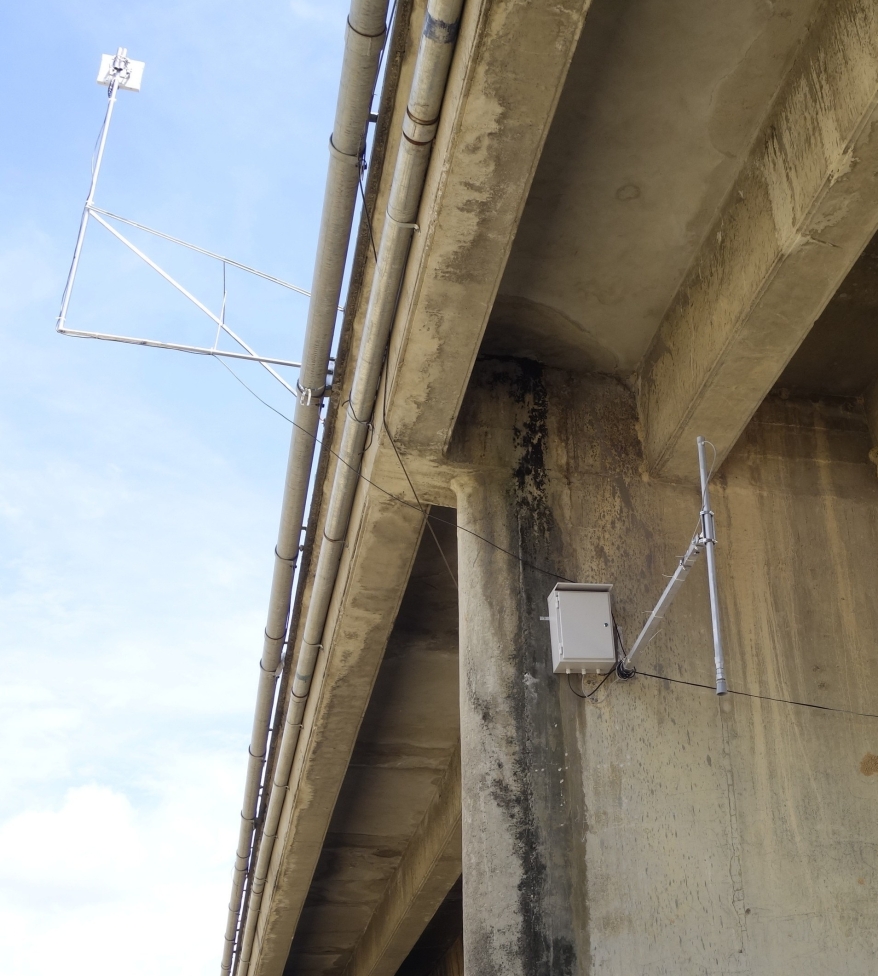 Solution Delivered
Since the initial initiative of CBFEWS by ICIMOD in 2010, SEE has developed 4 different versions of water level monitoring systems each of which has garnered many a success stories in their years of deployment.
The instruments developed have come a long way from the simplistic open wire immersion sensor solution wired all the way to the caretaker's residence as the Water Level Monitoring System (WLMS v1). This was followed by two versions of wireless systems that delivered signals to a residential receiver from a switch based immersion sensor as the Wireless Water Level Monitoring System (WWLMS v2 and WWLMS v3). The latest solution is a telemetry based wireless solution that employs non-contact sensors named the Telemetry based Water Level Monitoring System (TWLMS v4).
The telemetry based solution is comprised of 3 units namely the Data Acquisition (DA) unit, the Data Upload (DU) unit, and the Alarm Unit (AU). The DA unit is installed at the river bank. It periodically monitors the water level of the river through its contactless ultrasonic based technology and transmits the measurements wirelessly to the DU unit. The DU unit – placed at a designated caretaker's house as far as 3km with Line of Sight between antennas – then processes the measurements to generate localized messages and warnings and uploads measurements to a remote server through a cellular data connection. After processing the measurements received, the server then proceeds to display the data in a time-wise chart. Multiple AUs may be placed at vulnerable downstream communities. Upon receiving the correct SMS, the AU sounds a loud siren thus facilitating flood early warning dissemination where it is required most.
Results
The CBFEWS implementation has seen many success stories thanks to its bringing together of communities and technology. CBFEWS strives to move forward with 'technology with a human face' and the reliable technology behind it has been instruments manufactured by SEE.
Since 2010 CBFEWS has had deployments in riverine communities in Afghanistan, India, Nepal, and Pakistan. With proper monitoring and early warning, CBFEWS has provided sound sleep to flood prone communities and the people a chance to secure livelihoods, which in previous years was at the mercy of sudden floods. Evident from the response of communities, the system has been an empowering source of hope for communities where deployed. As in Dihiri, Assam in India a late night early warning provided an hour of lead time to downstream communities and livelihoods worth over USD3400 was secured in a single flooding event.
As a result of its many successes, the CBFEWS was awarded the UNFCCC's Momentum for Change 2014 Lighthouse Activity Award for its ICT innovations.
The latest TWLMS has further facilitated key authoritative stakeholders such as Disaster Management Authorities and Rescue forces to take preventive measures based on near real time water level observations that reach them directly. Furthermore it has reeled in the attention of policy makers at national level in the countries deployed due to the availability of untampered data and the capacity of analysis for learning and future prevention.
We are grateful for ICIMOD's continued support in improving and developing the water level monitoring system and are glad to be a part of the CBFEWS family.
For more information, please visit : icimod.org/cbfews